On November 14, 2023 the "Shandong-Netherlands Senior Care Industry Matchmaking Conference" was hosted in the city of Jinan (Shandong Province, China) More than 10 Dutch companies, experts in elderly care and other medical fields attended. The Netherlands Association for Rehabilitation (NVGF) participated and presented their plans on stage to all attendees. 
This conference was jointly organized by the  Jinan Branch of China Council for the Promotion of International Trade (CCPIT) and the Netherlands Business Support Office (NBSO) Qingdao which are official representatives offices of the Chinese and Dutch government to stimulate international trade relations. The Dutch representative of Health, Welfare and Sports of the Netherlands Embassy in China was one of the key speakers.
Together, they discussed ways to work together on senior care and medical advancements. This event is a big step in bringing people and organizations together to find new and better ways to take care of seniors. It opens the door for future collaborations and improvements in elderly care and related medical areas.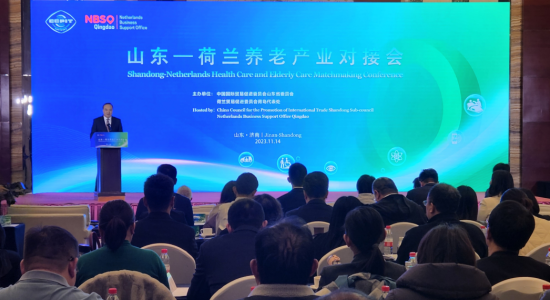 Shaping the future of senior care in China
Leading companies such as Philips and DSM-Firmenich are fostering collaboration and focusing on unlocking opportunities within the so called "silver economy in China. Mr. Nico Schiettekatte, the counsellor for Health, Welfare and Sports of the Netherlands Embassy in China remarked the following: "The new generation of seniors are 'travelers' in life. They are getting better educated while growing older and have stronger purchasing power. This development requires the formulation of new policies and providing new products and services based on the needs of the seniors," He also highlighted the commitment of many Dutch companies to pioneer advancements in preventive healthcare, home- and community care.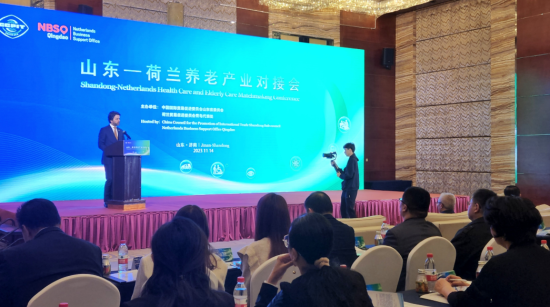 A global perspective on elderly care by NVGF
Mr. Diao Guangwei, senior consultant of the Dutch NVGF Rehabilitation Association, emphasized the global significance of elderly care. With a rising demand for medical care and physical rehabilitation, opportunities arise in the prevention industry. NVGF expressed its plans to collaborate with Shandong rehabilitation institutions and hospitals in areas such as comprehensive neurological rehabilitation and rheumatism treatment.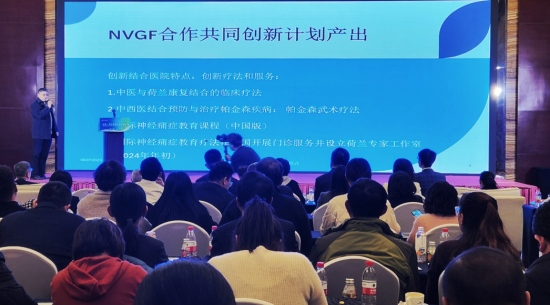 Shandong's elderly care landscape
Mr. Meng Xiangdong, the President of the Jinan Branch of China Council for the Promotion of International Trade (CCPIT), shed light on Shandong's unique demographic landscape. With a registered and permanent population exceeding 100 million, including 22.5 million individuals aged 60 and above, Shandong stands as the most populous province in China with a significant demand for elderly products and care services. The Shandong Provincial Council for the Promotion of International Trade is committed to establishing platforms and enhancing services to facilitate robust collaboration between the Netherlands and Shandong in the health and elderly care industries.

Concrete outcomes: A glimpse into future Dutch-Sino cooperation
During the matchmaking conference, representatives engaged in nearly 200 sets of "one-on-one" negotiations, resulting in dozens of preliminary cooperation intentions. This signifies a promising step towards fostering deeper ties and innovative solutions in the realms of medical care and elderly care between the Netherlands and Shandong. The collaborative efforts aim to meet the evolving needs of the growing senior population and work with the vast potential and demand within the so called "silver economy." The Dutch rehabilitation NVGF will keep on moving onward to keep on building bridges, creating network and exchange healthcare knowledge. 
Article based on source and photos from www.ChinaNews.com